How has your law firm been affected by the COVID-19 epidemic?
COVID-19 has changed the way many are doing business with everything from remote services involving video connections to no-touch delivery services.
Law firms are adjusting as well with only 17.6% scheduling in-office depositions while 82.4% are not scheduling any in-office depositions.

In a recent survey sent to law firms, initial results show 29.4% are operating remotely; 56.9% are partially staffed and operating on a limited business; 13.7% have their offices fully staffed and open.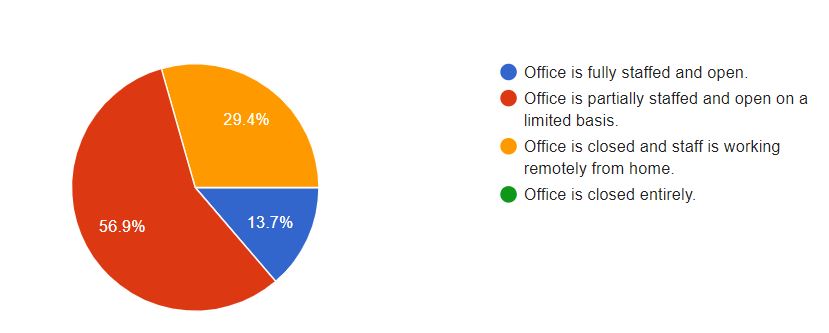 Along with adjustments to business operations, backlogs continue to build. Paralegals and legal assistants prepare as 60.8% are expecting to be extremely busy with upcoming trial preparation.

One of the most eye-opening results that came back from our recent survey was the amount of time it takes to schedule a court reporter. Responses show 68.6% of law firms are reporting the current inefficient process of scheduling a court reporter takes more than an hour to more than a day! A total of 19.6% report scheduling to be between 15 and 60 minutes, and only 11.8% surveyed can achieve scheduling a court reporter in less than 15 minutes.

eCourt Reporters reached out to law firms that were losing valuable time with their current inefficient process to show them a method to search, select, and schedule a certified, experienced court reporter in less than 5 minutes! Paralegals and legal assistants in particular are ecstatic for the efficient, professional connection that allows upfront pricing and direct communication, which turns out to be additional frustrating issues that are not addressed with the current process of scheduling court reporters.
To find out more about how law firms across the country are taking advantage of the many benefits of direct scheduling, click here.
If you would like to take the survey and see how your law firm compares, click here. Input from law firms is invaluable as we continue to improve technology for the legal industry.
As an appreciation of your time, your name will be entered in a drawing for a $100 Amazon gift card!